About UHCS
Mission and Vision of UHCS
The mission of University Heights Charter School is to develop in each student in grades PreK-8 the character, scholarship, and leadership necessary for success in life, college, and community. Our theory of change to educational excellence in Newark rests on our core beliefs which lead to our key school features and desired outcomes. Our community is built upon the foundation of our core virtues and expressed in our call and response. Explore the sidebar links to learn more about these key components to our school.
Our History
University Heights Charter School (UHCS) opened in September 2006 with 60 students in grades K-2 under the sponsorship of Bethany Baptist Church. It has since grown to over 900 students in grades PreK-8. UHCS scholars are housed in three buildings in Newark, New Jersey. The Lower School, serving over 375 students in grades PreK-2, is located at 74 Hartford Street and is housed in a two-story building adjacent to Bethany Baptist Church, with over 22,000 square feet of interior space that formerly served as a pre-school. The Elementary School, serving over 360 students in grades 3-6, is located across the street at 66-78 Morris Avenue in a 33,000 square foot facility including new construction and renovation of a former button factory.The Junior High School,serving 150 students in grades 7-8, is located at 118 7th Avenue and shares space with St. Lucy's Church.
Our Core Virtues
The University Heights Charter School community is built upon five REACH core virtues: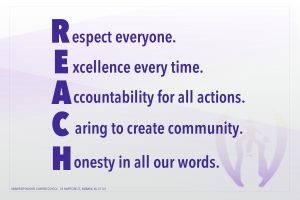 Scholar Affirmation
TODAY I WILL REACH TO BE THE BEST SCHOLAR I AM DESTINED TO BE.
I WILL RESPECT THE OPPORTUNITY TO LEARN.
I WILL SHOW EXCELLENCE IN ALL THAT I DO.
I WILL BE ACCOUNTABLE FOR MY ACTIONS.
I WILL CARE FOR MY PEERS AND SCHOOL ENVIRONMENT.
I WILL BE HONEST AND TAKE PRIDE IN MY WORK.
With Love and Respect ________________________.
Teacher Affirmation
TODAY I WILL REACH TO BE THE BEST TEACHER I AM DESTINED TO BE.
I WILL RESPECT THE OPPORTUNITY TO EDUCATE ALL SCHOLARS.
I WILL SHOW EXCELLENCE IN MY INSTRUCTION TO SCHOLARS.
I WILL BE ACCOUNTABLE TO ALL SCHOLARS.
I WILL CARE FOR MY SCHOLARS AND MY WORK ENVIRONMENT.
I WILL BE HONEST AND MAINTAIN MY INTEGRITY.
With Love and Respect __________________________.
Our Core Beliefs
University Heights Charter School has six core beliefs that drive its educational program and theory of change:
1. All students can achieve high levels of character, scholarship and leadership. Many people believe socioeconomic status, race, ethnicity, family composition, disability, or other factors can limit what children achieve. University Heights Charter School firmly rejects this notion. Our founders chose not to establish a private school or magnet school, where admission is selective but to be a public charter school where admission is open to all. Our student body, which is 100% minority and 80% low income, is representative of our community as a whole. We serve a range of special education students with services ranging from targeted speech therapy to in-class support to special classrooms with very low student to teacher ratios.
2. Effective instruction is the single greatest factor in increasing student achievement. Because we believe all children can achieve at high levels, good teaching is the most important factor in determining whether every child does achieve at high levels. Therefore we invest significant resources and energy in raising the quality and amount of instruction scholars receive. Over 60% of our budget is spent directly on instruction. The curriculum for every student is aligned to New Jersey Core Curriculum Content Standards. UHCS is also committed to extending the time for instruction, wit extended day and year initiatives that combined offer over 20% more learning time for students when compared with traditional district schools.
3. Great staff are the key to effective instruction. The impact of high quality curriculum and more learning time is only as strong as the quality of teachers delivering the instruction. This begins with recruitment of teachers. UHCS spends significant resources attracting and hiring the most highly qualified and certified teachers available. Over 400 applicants vied for 8 teacher openings this past year. Once teachers are hired we provide extensive support and professional development.
4. Strong school culture makes effective instruction possible. Good instruction can be thwarted by a culture of low expectations and lack of discipline. Therefore University Heights Charter School places emphasis on building a strong school culture. This begins with a student and parent orientation for new students where they learn our expectations, policies and procedures, and we mutually commit to abiding by them. All students wear uniforms to demonstrate school pride and avoid divisions caused by wearing different clothes. Character education revolves around our REACH core virtues. Discipline is strictly enforced through a system of rewards and consequences.
5. Data-driven decision-making improves instructional effectiveness. Teaching has not happened if students have not learned, and the only way to determine that is through assessment. Based on the results, teachers can then adjust and extend instruction to ensure maximum learning has taken place. UHCS employs a multitude of formal and informal assessments to track student progress and adjust instruction.
6. Partnerships with parents & community reinforce student learning and achievement. University Heights recognizes that parents are the primary teachers of students, and therefore seeks their partnership in every way possible. The school also seeks community partnerships h to enhance the school's education program. See our Partners page for more details.
Our Theory of Change
It starts with six core beliefs about teaching and learning. This translates into our key activities that lead to our desired outcomes in character, scholarship, and leadership as diagrammed below:
Desired Outcomes
Our mission focuses on developing the character, scholarship, and leadership potential of every child. By graduation we expect every student to meet the following standards in these areas:
Character: Words and actions demonstrate an internalized code of behavior based on the REACH core virtues of Respect-Excellence-Accountability-Character-Honesty.
Scholarship: Full proficiency on state and college-ready standards as measured by state assessments and capstone projects.
Leadership: Proven capacity to inspire, organize, and manage themselves and others.